SLIP, TRIP,
&

FALL INJURIES
Effective Legal Representation in Slip, Trip, and Fall Accidents
Central Massachusetts — Northern Worcester County — Middlesex County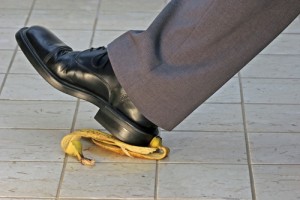 If you have been injured in a slip, trip, and fall accident, whether it was in a parking lot, at a mall, or in a private home, contact a lawyer right away. Evidence is lost quickly in these cases. Having an attorney immediately begin interviewing witnesses, documenting the condition of the property, and gathering other evidence of negligence is the best way to protect your rights.
The Law Offices of David Niose has a successful track record of representing accident victims throughout Central Massachusetts who have been injured in slip, trip and fall accidents, and we will fight aggressively for your rights.
Slip, Trip, and Fall Accident Cases Are Challenging
In Massachusetts, premises liability — the law covering accidents caused by negligence on property — is very strict. Slip, trip and fall accident victims are not "automatically" entitled to compensation.
In most cases, injured individuals have to prove negligence or breach of warranty on the part of property owners and managers. Without that proof, insurance companies can often deny payment and courts will dismiss cases.
We'll Go the Extra Mile for You
Attorneys David Niose and Paul Groark and our legal team will interview any witnesses, as well as the property owners or managers. We will research building codes, state regulations, and other property laws as necessary to prove negligence or breach of warranty.
Our firm has compelled dozens of property owners to pay hundreds of thousands of dollars in damages in premises liability cases. In one case, for example, we recovered $225,000 for a client who suffered a back injury after boxes fell on him in a grocery store.
As shown by our case summaries, we work tirelessly to help people suffering from injuries to get the just compensation they deserve to recover from injuries and move on with their lives.
Contact
If you've been injured in a slip and fall accident or, contact us by email or call toll free at 1-800-921-0800. We offer free initial consultations, are available for weekend and evening appointments, and can visit your home or hospital. We receive no fees in personal injury cases unless we secure a financial recovery for you.