CONSTRUCTION SITE ACCIDENTS
You've Been Injured in a Construction Accident. Now What?
Central Massachusetts — Northern Worcester County — Middlesex County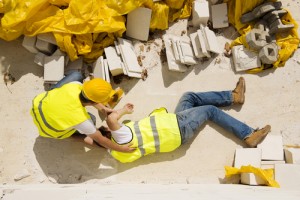 When you have been seriously injured in a construction accident, how do you make sure you have the money you need to pay for medical care and make up for lost income? Many people fear that their workers' compensation benefits are the only source of income after a work injury.
In many construction accident cases, however, parties other than your employer may be partially responsible for your injuries. If so, you may have a personal injury claim in addition to your workers' comp claim.
At the Law Offices of David Niose in Fitchburg, Massachusetts, we can help you determine the best course of action after a construction accident. We have successfully handled personal injury cases for hundreds of workers.
Injury attorneys David Niose and Paul Groark have handled cases involving injuries to the head or back, arms, legs, hips, and many other parts of the body as well as wrongful death. Our legal team has represented workers involved with masonry, fencing, cranes, carpentry, and all facets of building construction.
Construction accidents, such as falls from ladders, roof, and scaffolding, are not as rare as you may think. We have successfully represented many clients who have been injured at construction sites. Our lawyers have a proven track record in third-party claims against contractors, subcontractors, equipment manufacturers, landowners, and other third parties on construction sites.
The attorneys at the Law Offices of David Niose have worked on both sides of insurance and injury disputes. Both are former insurance defense attorneys who now work exclusively to help injured people. We will aggressively represent you when presenting your case.
Contact
If you've been injured in a construction accident, contact us by email or call toll free at 1-800-921-0800. We offer free initial consultations, are available for weekend and evening appointments and can visit you at home or in the hospital. We receive no fee in personal injury cases unless we win a financial recovery for you.