Fitchburg, Leominster and Gardner Motorcycle Attorney
Central Massachusetts — Northern Worcester County — Middlesex County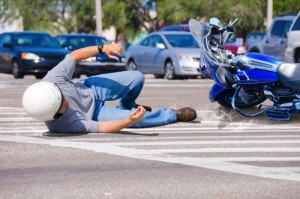 It's a dangerous world out there for motorcyclists! Attorney Niose, a licensed motorcyclist himself, has successfully handled hundreds of motorcycle cases. The typical scenario involves a careless automobile driver who simply does not see the motorcycle, pulling out and causing an accident and seriously injuring the innocent biker.
Motorcycle accidents raise numerous unique legal and insurance issues, making it important that you retain an attorney with extensive experience in this area of the law. The insurance and liability laws in Massachusetts pertaining to motorcycle accidents are complex and differ greatly from those governing car and truck accidents. For example, while PIP (personal injury protection) insurance is required for cars and trucks, this form of insurance does not cover anyone on a motorcycle. This difference can greatly affect the coverage and potential compensation of each motorcycle injury claim.
Also, unlike car and truck injury claims, claims for injured motorcyclists are not bound by tort thresholds, which set forth the amount of damages needed in order to pursue compensation for pain and suffering.
These and other factors, including the generally more serious nature of motorcycle injuries, complicate motorcycle injury claims. At the personal injury law and motorcycle accident firm of the Law Offices of David Niose, we are experienced in handling all aspects of motorcycle crash injury claims and have helped many injured motorcyclists since 1993.
Lawyers David Niose and Paul Groark have defended motorcycle injury claims as insurance defense attorneys, and now represent injured motorcyclists using skills gained by working on numerous cases on both sides of injury and insurance disputes.
We have worked with medical and financial experts to win millions of dollars in compensation for our clients. To learn more about motorcycle accident injury law or to schedule a free initial consultation, contact us.
Contact
If you have questions regarding a motorcycle accident or wrongful death, contact us. We are available for weekend and evening appointments, and can visit you at home or in the hospital. We receive no fee in personal injury cases unless we win a financial recovery. To contact us, call 978-343-0800 or 1-800-921-0800.